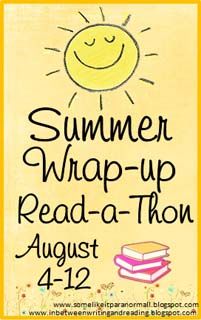 Just a reminder that the Read-A-Thon is starting tomorrow!
Make sure you are signed up
HERE
Feel free to start reading whenever you want.
I'm actually going to be away on a rafting trip Saturday & Sunday. I know I'm a horrible host but I have posts planned and will be back Monday reading strong! But in case you have any questions those days you can contact my co-host Jude @ In Between
@JudeHnd JudeHnd@gmail.com
Tweet updates using hashtag #SWUR
Here is the challenge schedule!
Challenge Schedule
Times are Pacific you can use a time converter HERE
I'll update to direct links when posts go up so check back often.


We're giving you a heads-up on what the final challenge of the read-a-thon will be so you get the chance to prepare. We want to know about the places you read this summer, if you went on vacations to a nice place, the beach or a nice reading place in your home. For your last post we want you to show us some pictures of these places, you don't have to be in the pictures. So pick up your books and pick up your cameras for the week, we're looking forward to see your reading places :)
There will also be some surprise giveaways for all participants!