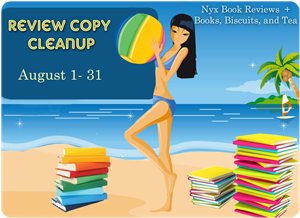 I had so much fun with the last Review Copy Cleanup Challenge that I decided to join again!
I have cut way done on requesting and accepting review books but my pile is still huge so I am joining the cleanup.
Clean up that big pile of review books you've been neglecting this August and join the Review Copy Cleanup. During the month of August we will host a number of Twitter parties and mini-readathons in order to motivate ourselves and other participants! Is your review pile getting out of control? Then make sure to join us on a quest to clean up that review copy pile and to have some fun in the process.