You can follow the full tour
HERE
See my review of the first book, Darker Days,
HERE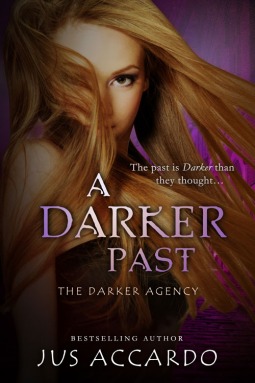 A Darker Past (The Darker Agency #2) by Jus Accardo
Release Date: November 11, 2014
Publisher: Entangled Teen
Pages: 314
Genre: YA Paranormal
Source: Author
Purchase:
Amazon
| B&N
Haunt Author:
Website
|
Facebook
|
Twitter
The past is Darker than they thought... Between helping her mother with the Darker Agency and laying the smack down on monster baddies, Jessie Darker puts the "normal" in paranormal. But lately, things have gotten a little crazy...even for a smart-assed half-demon teenage girl. For starters, Jessie's been contracted into fifty-five years of annoying servitude. To a demon. Then there's Lukas Scott, her sexy new boyfriend. Once the former incarnation of Wrath, he's been going through some...uh, changes. Like residual anger. And trading chaste hangouts for lusty make-out sessions. But it's when Lukas and Jessie accidentally release a Very Nasty Demon that things get really bad, setting into motion a chain of death and mayhem that threatens both Earth and the Shadow Realm. Jessie has exactly four days to fix it...before all of Hell breaks loose.

I loved the first book in this series and was excited to get back into Jessie's world. Jessie works at a paranormal agency with her mom. They have a fun sort of Gilmore Girls partnership but with demons and mayhem. Jessie has been able to spend more time with her demon dad since he was freed. Except now Jessie is locked into a 55 year contract serving the demon, Valefar. She also has her new boyfriend that was trapped in a box with Wrath for over 100 years. Danger is never far from Jessie and she accidentally releases a new baddie demon that must be recaptured.
I just love every character and relationship dynamic in the book! Jessie and her mom are such a fun team. I usually get bored with parents in books but I do find Klaire to be a badass mom and I love the way they work together. Jessie's sarcasm is awesome. I love Jessie's protective demon father, Damien. I even love how Lukas has become a part of their family. I am especially enjoying Valefar. He makes an interesting demon boss. Really wondering why he is so interested in Jessie and wanting her to serve him. Demons love being owed favors but I think there is more going on with Jessie and the Shadow Realm. Either way I can't wait to see more of him.
I love Lukas and the chemistry between him and Jessie. Some super sweet and hot makeout scenes. I love how he is always trying to protect her although Jessie really doesn't need any protection but I do think she needs a partner in crime. I love how her best friend Kendra has been stepping up with her witch skills and wants to be Jessie's witch partner too. Lots of love for this book. I do wonder what Lukas is hiding. Jessie's dad is sort of helping Lukas learn the ways of the demon world and I think Damien and Lukas have some secrets and I wish more had been revealed! Now I have to wait for the next book!
"I hardly think your father's idea of guard duty entails the inappropriate placement of my hands and lips."
"That kiss in the park..."
"That was hardly just a kiss," he said gaze hungrily zeroing in on my lips. "It was me losing control."
"Yeah, but that's the kind of slip in control I could get behind.
"Protecting you isn't my jog It's my life. You're not an assignment, Jessie. You make me crazy, but at the same time, keep me anchored. You're my reason."
"Reason for what?"
"For everything."
Rating: 4/5
JUS ACCARDO spent her childhood reading and learning to cook. Determined to follow in her grandfather's footsteps as a chef, she applied and was accepted to the Culinary Institute of America. But at the last minute, she realized her true path lay with fiction, not food.
Jus is the bestselling author of the popular Denazen series from Entangled publishing, as well as the Darker Agency series, and the New Adult series, The Eternal Balance. A native New Yorker, she lives in the middle of nowhere with her husband, three dogs, and sometimes guard bear, Oswald.
Darker Days (The Darker Agency #1) by Jus Accardo
Jessie Darker goes to high school during the day, but at night she helps with the family investigation business. Cheating husbands and stolen inheritances? They're your girls—but their specialty is a bit darker. Zombie in your garage? Pesky Poltergeist living in your pool? They'll have the problem solved in a magical minute. For a nominal fee, of course... When gorgeous new client, Lukas Scott, saunters into the office requesting their help to find a stolen box, it sounds like a simple case—until the truth comes out. The box is full of Sin. Seven deadly ones, in fact. They've got five days to recapture the Sins before they're recalled by the box, taking seven hijacked human bodies with them. Easy peasy—except for one thing... There's a spell that will allow the Sins to remain free, causing chaos forever. When the key ingredient threatens the life of someone she knows, Jessie must make the ultimate choice between love and family—or lose everything.