Welcome to my stop on the Extraction Blog Tour hosted by IFB Tours.
You can follow the full tour HERE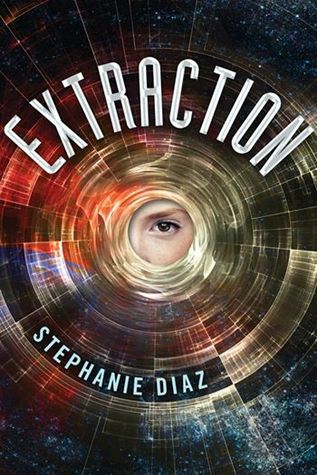 Extraction by Stephanie Diaz
Release Date: July 22, 2014
Publisher: St. Martin's Griffin
Pages: 416
Genre: YA Dystopian
Source: Netgalley
Purchase:
Amazon
| B&N | Book Depository
Haunt Author: Website | Facebook | Twitter

"Welcome to Extraction testing." Clementine has spent her whole life preparing for her sixteenth birthday, when she'll be tested for Extraction in the hopes of being sent from the planet Kiel's toxic Surface to the much safer Core, where people live without fear or starvation. When she proves promising enough to be "Extracted," she must leave without Logan, the boy she loves. Torn apart from her only sense of family, Clem promises to come back and save him from brutal Surface life. What she finds initially in the Core is a utopia compared to the Surface—it's free of hard labor, gun-wielding officials, and the moon's lethal acid. But life is anything but safe, and Clementine learns that the planet's leaders are planning to exterminate Surface dwellers—and that means Logan, too. Trapped by the steel walls of the underground and the lies that keep her safe, Clementine must find a way to escape and rescue Logan and the rest of the planet. But the planet leaders don't want her running—they want her subdued. With intense action scenes and a cast of unforgettable characters, Extraction is a page-turning, gripping read, sure to entertain lovers of Hunger Games and Ender's Game and leave them breathless for more.

Five hundred years ago on planet Kiel, pollution destroyed the ozone layer. The moon began leaking lethal acid so the government created a shield and sent people to live below the surface in the core. Those left on the surface are children used and abused. But they all have a chance at "Extraction." A test to see who is worth saving and moving to the Core. Clementine is up for her Extraction but if chosen would have to leave her lifelong best friend Logan who failed the Extraction test last year.
Clem is more known for her brains than athletic skills. Computes math equations quickly. She is super smart and caring. Doesn't want to have to leave Logan. Wants to make a difference and change things on the surface. I was sad Logan was not present for a large part of the book. He was so sweet and truly loved Clementine. He wanted to her to be extracted and saved even though it meant leaving him all alone for the rest of his short life. The kids are slaves and then killed off at 20 years old and replaced. The world building was very interesting and brutal. All the surface kids are treated horribly.
After the Extraction, the book had kind of a Divergent feel. Clementine has to go through training to increase her Promise and find the right job for her in the Core. She makes friends and enemies. One guy is trying to destroy her while another one helps her. I was really worried it was turning into a love triangle but luckily it didn't go that route which was such a relief. Totally rooting for Logan. Clem doesn't forget about him and wants to do whatever she can to save him. Things were constantly happening and lots of different twists and reveals. The Core isn't as wonderful of a place as Clementine was always told. I have so many different theories of what could be happening. Excited to see where the series goes next.
"They can't take me without you."
"I beat him, and he didn't scowl or laugh or chide me for it. He hugged me. He wrapped me in his arms, in his warmth, like he would never let me go."
Rating: 4/5
Twenty-one-year-old Stephanie Diaz wrote her debut novel, Extraction, when she should've been making short films and listening to college lectures at San Diego State University. When she isn't lost in books, she can be found singing, marveling at the night sky, or fan-girling over TV shows.