I'm waiting on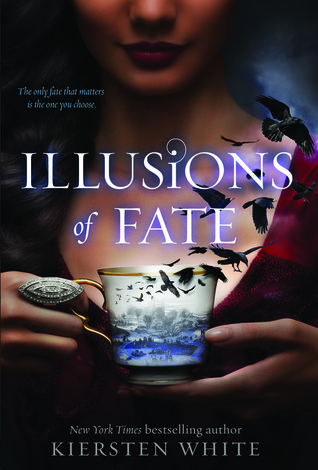 Illusions of Fate by Kiersten White
Release Date September 9th 2014
Downton Abbey meets Cassandra Clare in this lush, romantic fantasy from New York Times bestselling author Kiersten White.

"I did my best to keep you from crossing paths with this world. And I shall do my best to protect you now that you have."

Jessamin has been an outcast since she moved from her island home of Melei to the dreary country of Albion. Everything changes when she meets Finn, a gorgeous, enigmatic young lord who introduces her to the secret world of Albion's nobility, a world that has everything Jessamin doesn't—power, money, status…and magic. But Finn has secrets of his own, dangerous secrets that the vicious Lord Downpike will do anything to possess. Unless Jessamin, armed only with her wits and her determination, can stop him.

Kiersten White captured readers' hearts with her New York Times bestselling Paranormalcy trilogy and its effortless mix of magic and real-world teenage humor. She returns to that winning combination of wit, charm, and enchantment in Illusions of Fate, a sparkling and romantic new novel perfect for fans of Cassandra Clare, The Madman's Daughter, and Libba Bray.
Why I'm Waiting?
The synopsis doesn't give away much. The usual magic, power, romance, and intrigue but I loved her Paranormalcy series so I'm hoping I'll enjoy this one as well.
Positive: A Memoir by Paige Rawl With Ali Benjamin
Release Date August 26th 2014
An astonishing memoir for the untold number of children whose lives have been touched by bullying. Positive is a must-read for teens, their parents, educators, and administrators—a brave, visceral work that will save lives and resonate deeply.

Paige Rawl has been HIV positive since birth, but growing up, she never felt like her illness defined her. On an unremarkable day in middle school, she disclosed to a friend her HIV-positive status—and within hours the bullying began. From that moment forward, every day was like walking through a minefield. Paige was never sure when or from where the next text, taunt, or hateful message would come. Then one night, desperate for escape, fifteen-year-old Paige found herself in her bathroom staring at a bottle of sleeping pills.

That could have been the end of her story. Instead, it was only the beginning. Paige's memoir calls for readers to choose action over complacency, compassion over cruelty—and above all, to be Positive.
Why I'm Waiting?
I don't read a ton of non-fiction, biographies, or memoirs but a few really grab my attention and this is one. Sounds like a very sad yet hopefully touching and inspiring story about bullying.
Leave links to your WOW