I am so excited to be participating in the blog tour for AMOUR AMOUR! I am currently 25% into the book and loving it! For more fun posts f
ollow the full tour
HERE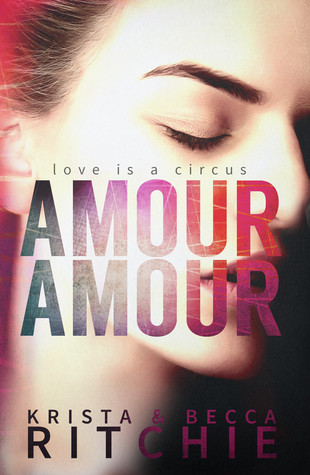 Love is a circus
"Every day," he says lowly, "I hold a person's life in my hands. The circus is based one-hundred percent off trust. I give it all to someone, and they give it all to me."
The best aerial technique won't land 21-year-old Thora James her dream role in Amour—a sexy new acrobatic show on the Vegas strip. Thora knows she's out of her element the second she meets Amour's leading performer. Confident, charming and devilishly captivating, 26-year-old Nikolai Kotova lives up to his nickname as the "God of Russia."
When Thora unknowingly walks into the crosshairs of Nikolai's after-show, her audition process begins way too soon. Unprofessional. That's what Nik calls their "non-existent" relationship. It's not like Thora can avoid him. For one, they may be partners in the future--
acrobatic
partners, that is. But getting closer to Nik means diving deeper into sin city and into his dizzying world.
Thora wants to perform with him, but when someone like Nikolai attracts the spotlight wherever he goes—Thora fears that she's destined to be just background to his spellbinding show.
This sexy and exhilarating New Adult Romance can best be described as Cirque du Soleil meets the steamy, athletic romance of Center Stage.

*standalone & no love triangles—recommended for readers 18+ for mature content*
Amour Amour contains a variety of characters. Some more colorful than others. Inspired by the mood boards on
Tumblr
, we've put together mood boards for the most prominent characters in the book without revealing any spoilers. Below you can find the mood board for the moodiest of the characters in Amour Amour: John.
To officially meet John, you can grab a copy of Amour Amour on Amazon, B&N, and Kobo – releasing December 12th.
I love John! He is so moody, mature, honest and hilarious!
I love how Timo calls him an old man.
Krista & Becca Ritchie are identical twins—one a science nerd, the other a comic book geek—but with their shared passion for writing, they combined their mental powers as kids and have never stopped telling stories. Now in their early twenties, they write about other twenty-somethings navigating through life, college, and romance. They love superheroes, flawed characters, and soul mate love.
They are the New Adult authors of the Addicted series and Calloway Sisters spin-off series, and you can find them on almost every social media, frolicking around like wannabe unicorns.
*Kindle Paperwhite
Both giveaways are open internationally!