Welcome to my stop on the Thrive Blog Tour!
Check out the excerpt & awesome giveaway.
Click here to follow the full tour and see more excerpts & interviews!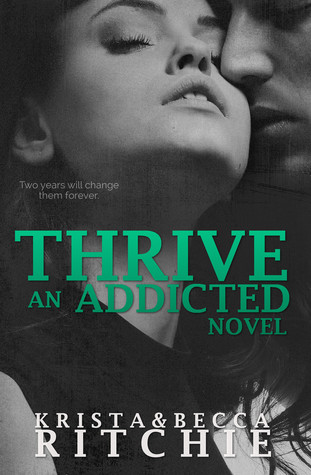 Two years will change them forever.

When rumors spread like wildfire—like having three-ways with her boyfriend's rock climbing brother—Lily Calloway spirals into a dark place. Her bedroom. Loren Hale is more confident and determined to keep their sex life private, even from their friends, and he helps Lily in the only way he knows how. But how much love is too much?

Their lives are filmed, watched, and criticized. And through it all, Lily and Loren have to face enemies they never thought they'd see, demons they don't know if they should bury, and setbacks they didn't think they'd meet. Not this soon.

And one rumor could be too much for them to handle. It will test their greatest limitations, and if they don't hold onto each other, someone is going to drown.

A full-length New Adult Romance that bridges the gap between the second and third books. Thrive must be read before Addicted After All if you have not read the Calloway Sisters spin-off series.
Thrive (Addicted #2.5) by Krista & Becca Ritchie
Lily Calloway's POV
"You're a sex addict and I'm an alcoholic," he says, "and the whole fucking world knows it. We have to get used to people staring, love."
He's right of course. My mind seems to calm, but my body doesn't follow just yet. My legs feel gooey, and my shoulders shake a little, on edge.
The words leave my lips before I can stop them, "Can I give you a blow job?"
"No," he deadpans.
I raise my hands. "You're right. You're so right. Blow jobs are so '89."
"Let's not go that far." He smiles softly, and I don't know why, but tears prick my eyes. I'm such a sap. And there goes that smile, fading away. "Lil…"
"I'm sorry," I blurt out. "I shouldn't have asked. Can we do take-backs?"
Krista Ritchie has a clone...or someone who looks exactly like her. If she's not writing books with her twin sister, she's pouring over entertainment news and ingesting copious amounts of pop culture. She likes tennis, that thing called the TV, and beating Becca (her clone) on Sega Genesis. She created YA Book Exchange to combat her book buying addiction and started Nawanda Files, a YA Book Blog that features books into movies news, to share her love for all things bookish. Oh, and she does something called science. Whatever that is.
Krista & Becca Ritchie write New Adult books that make you cringe, gasp, and go ooh-la-la. (If you do that sort of thing.) They are currently working on the spin-offs and final books in the Addicted series.


Krista
Becca