Welcome to my stop on the Come Back To Me Blog Tour!
Today I have a review of the book, a super cute character interview with Kit and Jessa, and an awesome giveaway!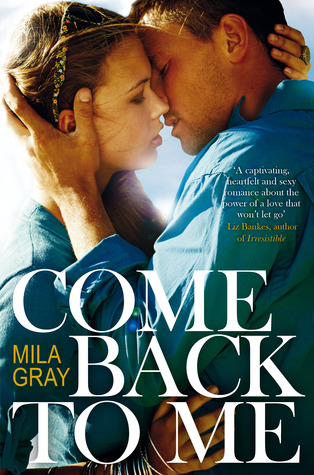 Come Back To Me by Mila Gray
aka Sarah Alderson
Release Date: June 19, 2014
Publisher: Pan Macmillan
Pages: 373
Genre: New Adult
Source: eARC from author
Purchase:
Amazon
Haunt Author:
Website
|
Facebook
|
Twitter
Home on leave in sunny California, Marine and local lothario Kit Ryan finds himself dangerously drawn to his best friend's sister, Jessa - the one girl he can't have. But Kit's not about to let a few obstacles stand in his way and soon Jessa's falling for his irresistible charms. What starts out as a summer romance of secret hook-ups and magical first times quickly develops into a passionate love affair that turns both their worlds upside down. When summer's over and it's time for Kit to redeploy, neither Kit nor Jessa are ready to say goodbye. Jessa's finally following her dreams and Kit's discovered there's someone he'd sacrifice everything for. Jessa's prepared to wait for Kit no matter what. But when something more than distance and time rips them apart they're forced to decide whether what they have is really worth fighting for. A breathtaking, scorchingly hot story about love, friendship, family and finding your way back from the edge of heartbreak.

The book opens right up with a bit of a shocker and you know some heartbreak is coming. But then it's three months earlier and Jessa's brother Riley and his best friend Kit are back for a month but will be redeploying. Jessa has been crushing on him forever and we get to switch to Kit's POV and see that he has also had feelings for her. I love the sweet life long friendships that turn to romances. It's a whirlwind romance with so many romantic, swooney and sexy scenes.
It was also such a great story about friendship and family. Kit and Riley have such a sweet bromance. Riley is such a great protective big brother to Jessa. Jessa and Riley really struggle with their home life. Their dad is also in the military and a very strict, cut off, bitter man. He also hates Kit so Jessa and Kit have to hide their relationship. It is such a sweet romance. Some great scenes with Kit taking Jessa to see the stars and he cooks for her. LOL Kit is a great catch! A really good guy worth swooning over. I got so caught up with them that I forgot that something bad was coming until it was too late. I was kind of hoping that opening was a mistake.
Then I balled! During the last 10% of the book I was doing that thing where I tell myself these are characters and they are not real, to try to get myself to stop crying. LOL But I took a break and then came back. Having a relationship with someone in the military has to be so difficult. I don't think I could ever do it. Having to go through them leaving and not knowing how to help them with what they are dealing with. It was worth sticking through some of the sad parts because we see how even the strongest can break but then they build themselves back up again. While there is a lot of heartache it does end on a sweet and hopeful note. It was worth it!
"Come back to me. Promise you'll come back to me," she whispers, her lips against mine, tears pouring down her cheeks.
I stroke that stubborn strand of hair behind her ear. "Always," I say.
"Does he make you see stars?" he asks in a low voice. "Does he call you his north star? Because that's what you are to me. You're the reason I made it home."
"I don't care where we go. Just so long as we go there together."
Rating: 4/5
Do you remember when you first met as kids?
Kit: I met Riley when I was 14. He came down to the court to shoot some hoops. I think I first saw Jessa around the same time. Riley took me back to his house one day and she was there. To tell you the truth though I didn't really notice her back then.
Jessa: I remember the first time I saw Kit. He was hanging out on the porch waiting for Riley and I asked him if he wanted Lemonade and then I spilled it on him when I brought it out because I was so nervous.
When did you realize you liked each other as more than friends?
Jessa: I had a thing for Kit when I was about 14 or 15. Embarrassingly, because most of the girls in Oceanside liked him too. So I forced myself not to even go there.
Kit: Oh man, she's exaggerating. But yeah, it was only when I got back from basic training with Riley that I first started seeing Jessa differently. Riley dragged me to see her in some play and the minute she came out on stage she blew my mind. She was incredible. But because Riley was her brother and because we were friends I stayed away. I made myself forget her but yeah…when we came back from our first deployment I realised I didn't want to imagine her with any other guy but me.
What is your favorite memory of each other?
Kit: I'm not sure I'm allowed to say. Jessa knows though. Let's just say it was the best night of my life.
Jessa: I think I would have to say the time he threw rocks at my bedroom window and when I went downstairs and snuck out the house he was waiting in the bushes. It was my birthday.
Kit: I kissed her.
Jessa: For the first time.
Kit: It was pretty special.
Jessa: Until my dad showed up.
What is your idea of the most romantic date?
Kit: Hanging out in bushes.
Jessa: Heading out to the desert to watch the stars from the back of Kit's pick up.
Kit: That was our first date.
Jessa: We still do that once in a while, go out there and stargaze
Kit: You call that stargazing? Because I'd call it something else.
What's the most beautiful thing you've ever seen?
Kit: Jessa, the day I returned from deployment. I hadn't seen her for a year. She opened the door and she was holding something and I swear to god I almost burst into tears right there and then. It was like someone punched me in the heart.
Jessa: The stars at night seen from the back of Kit's pick up.
What is your best feature?
Jessa: My best feature? I don't know.
Kit: Her smile.
Jessa: Kit's? His eyes. And his laugh.
What is your idea of the perfect day? What time of day is your favourite?
Jessa: A picnic at the beach. Kit's an amazing chef. So a home-made picnic, followed by a trip to the theatre - preferably open air, and then a road trip out to the desert. I love dusk best.
Kit: Hanging out with Riley and Jessa. Anywhere is good. On my ideal day I'd get up, make Jessa breakfast in bed, then give her dessert..
Jessa: you have a one track mind..
Kit: You love my mind…you never once complain about my mind.
Jessa: shhhhh
Kit: Then once I'm done making Jessa smile I'd whisk her away for a romantic date at the beach before taking her home for more dessert.
Jessa: He means cake.
What kind of weather is your favourite?
Kit: Sunshine all the way.
Jessa: Same.
What is your favorite food?
Jessa: Anything Kit cooks. He's half-Portuguese so he makes incredible Portuguese food.
Kit: Steak.
If you could change one thing about yourself, what would it be?
Kit: I'd change one moment of forgetfulness. Can I do that?
Jessa: No. There's no looking back. What is, is. I wouldn't change anything about you.
Kit: I'd change Jessa's inability to see how amazing she is. And how talented. She's way too humble.
Jessa: There's nothing wrong with that.
What do you consider your greatest achievement?
Kit: Being a godfather. Getting my shit together. Convincing Jessa to fall in love with me and, above all, getting her to come back to me.
Jessa: Standing up for myself and following my dreams.
Tell me something no one else knows about you?
Kit: I'm scared of spiders.
Jessa: He is. He's a Marine and he's scared of spiders.
Kit: She sleeps with a Care Bear when I'm not home.
Thanks for stopping by the blog!
Mila Gray is the pen name for Sarah Alderson, author of Hunting Lila, Losing Lila, The Sound, Fated and Out of Control. Originally from London she has lived in Bali for the last four years with her husband and daughter. As well as writing young adult fiction under the name Sarah Alderson and adult fiction under the name Mila Gray, she also writes screenplays.