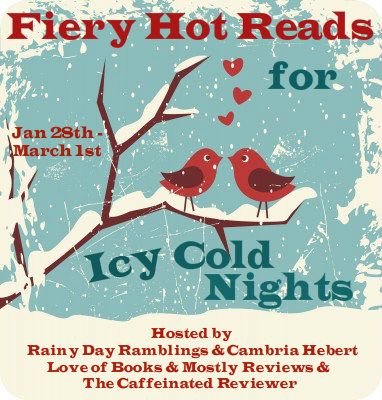 Thanks to Rainy Day Ramblings, Christy's Love of Books, Mostly Reviews, The Caffeinated Reviewer, & Cambria Hebert for hosting this awesome event! This is my second post participating!
Fiery Hot Reads For Icy Cold Nights is a five week long event where bloggers will be featuring books with great romances and giving them away!
A great chance to discover new authors and win some books to keep you warm during the winter nights.
You can see the full schedule HERE
Today I am excited to feature a guest post from one of the
awesome hosts of this event, Cambria Hebert, who has a new book coming out February 15th! She will be discussing horrible Valentine's Day gifts and also giving away an eBook copy of her book!
Top 5 worst gifts to give on Valentine's Day.
Never fear I have come to save you from making a mistake that will ruin your life. Forever.
I have brought with me today the Top 5 Worst Valentine's Day gifts you could give. So take note and save yourself years of heartache and pain!!!
Hey, I'm a writer, being dramatic is what I do.
Anyway, before I give you my list of bad gifts let me give you a little statistics about how American's spend and how much during this holiday of love.
"

According to American Greetings, the following statistics are typical:
Men spend more than women, averaging 158 dollars.

Women spend an average of 85 dollars on their loved ones.

The main consumers of Valentine's Day merchandise are between 25 and 34, with each spending an average of 164 dollars.

Second in line are consumers between 18 and 24, with each averaging 143 dollars.

Last are consumers between 45 and 54, with each spending approximately 108 dollars on holiday related purchases.
As for consumers over 54, no statistics were available, but they, too, most assuredly spent their fair share on tokens of affection for loved ones on Valentine's Day."
(Note: this info was found at http://suite101.com/article/the-most-popular-valentines-day-gifts-a190591)
That's actually more money than I thought. What about you?
Now that you know how much you will likely spend let me tell you what NOT to buy.
Top 5 Worst gifts to give on Valentine's Day
(image found at http://shine.yahoo.com/valentines-day/the-worst-valentines-day-gifts-ever-2010-edition-637833.html)
Breath Mints.

These are NOT considered candy. In fact if you were to give them to someone expect to never get kissed again.
(image found at http://www.universalcompanies.com/_resources/_global/media/resized/00011/ihwx.80788532-8783-48aa-9161-abf7c15acee9.1320.1320.jpg)
Funeral Arrangements.

Need I say more???
This sweatshirt.

Wrong on so many levels.
And so take my advice. DO NOT spend any of your hard earned money on any of these items. You will thank me later. And listen, when in doubt, just buy her flowers.
Don't forget to check out Cambria's newest release, Recalled, which is releasing on February 15
th
and will be at a special Release day price – 99 cents! - for a limited time only!
Love or Death? A simple question really. The choice seems obvious. But. What if you never knew love, what if your life was spent just trying to survive? What if you knew your fate before you were fully grown?
And then you died.
And you were given another chance. A better chance.
This new life depended upon one thing: your job. And so you agreed. You thought it would be simple. You thought it would be cut and dry.
It never is.
And now you are left holding the fate of someone else in the palm of your hand and you have to make the ultimate choice.
Love or Death?
Cambria Hebert is the author of the young adult paranormal
Heven and Hell
series and the upcoming
Death Escorts
series. She loves a caramel latte, hates math and is afraid of chickens (yes, chickens). She went to college for a bachelor's degree, couldn't pick a major and ended up with a degree in cosmetology. So rest assured her characters will always have good hair. She currently lives in Pennsylvania with her husband and children (both human and furry) where she is plotting her next book. You can find out more about Cambria and her work by visiting
http://www.cambriahebert.com
Open INT
One eBook copy of Recalled (will release on Feb 15th)
One Recalled Swag pack that consists of:
One Large Magnet
Signed Bookmarks (2)
A sticky Notepad
One Recalled Pen
One Recalled Sticker