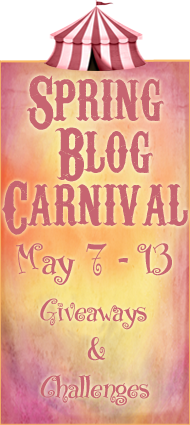 Each blog is hosting a different booth with different challenges and giveaways!
Welcome to the
Booth!
My challenge will be pretty simple but will take some imagination. I would like you to come up with your very own magic spell.
If you were a new witch and could learn to do one spell what would it be and how would you perform it?
Would it be a love potion brewed in a caldron or a simple spell done with words.
For example my spell would be called
Auto Beautify!
And the spell would automatically do my hair and makeup for me. Honestly this process takes me a long time! LOL I have really long thick wavy hair that has to be blow dryed and straightened and if I could do any spell it would be for my hair to be automatically done! Like Sabrina when she stands in front of the mirror and snaps her finger and she is dressed, hair and makeup done, and ready to go. Very jealous of witches!
For the giveaway I'll pick one comment at random
And since it is a challenge I'll also pick one comment with the most creative spell so go crazy and get creative!
Rules:
1 entry per person
No need to follow but always appreciated
Must be 13+ years old to enter and under 18 must have parents permission.
Open internationally as long as the book depository ships free to your country. Click here to check.
Please leave a way to contact you. It can be twitter, blog, goodreads link, or email. I didn't want to make extra steps with a google doc form so if you feel more comfortable just leaving your twitter name I can tweet you. Just make sure there is a way I can contact you. I will also announce the winners on this post and I will email or tweet them May 14th.
Witch Books to Choose from! Winner will receive one of the following of their choice.
I will be shipping from Amazon to U.S. and from Book Depository to Int. If something isn't available at one of these locations another book will have to be chosen. Also I only listed the first book in the series but you are free to pick any book in the series.
You can be an evil or sweet witch!



Don't forget to check out all the other booths!